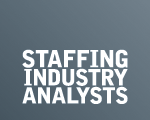 Magee Resource Group LLC (MRG), a franchise affiliate of MRINetwork in Shreveport, La., transferred ownership from founders Charles and Gerri Magee to business managers Stan Wallace and Christian Burney as joint partners.
Both will remain senior account managers, with Wallace named president and managing partner and Burney named executive vice president and managing partner.
Terms of the transaction were not disclosed.
Founded in 1991, MRG specializes in the recruitment of executive and management-level candidates for the healthcare and information technology industries. Wallace and Burney joined the firm in 2005 as executive recruiters and moved into management roles in 2010.
"This is the best possible scenario in terms of succession," said Charles Magee. "Stan and Christian had eight years to learn every aspect of the business from recruiting top talent to running the company. We are confident that we are leaving our clients and our employees in good hands."