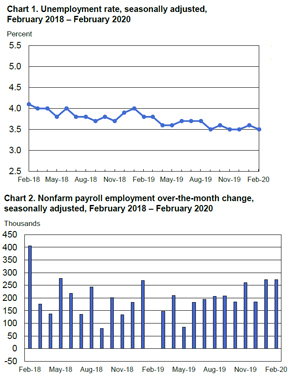 February was a big month for hiring, according to the latest Bureau of Labor Statistics report. In fact, employment had such a strong surge that the U.S. posted the best jobs numbers since May 2018, according to Bloomberg.
"Payrolls rose 273,000 after the prior month was revised up to also reflect a 273,000 gain, according to Labor Department data Friday that beat all forecasts in Bloomberg's survey calling for 175,000. The jobless rate fell back to a half-century low of 3.5% as average hourly earnings climbed a steady 3% from a year earlier," according to the publication.
As CNBC noted, meanwhile, the figures overall have been strong in recent months as well so this jobs report is following a welcome trend for employment: "The previous two months' estimates were revised higher by a total of 85,000. December moved up from 147,000 to 184,000, while January went from 225,000 to 273,000. Those revisions brought the three-month average up to a robust 243,000 while the average monthly gain in 2019 was 178,000."
"An important piece of good news here is that while we face these extraordinary uncertainties — and I think that's going to continue throughout most of 2020 — our economy coming into this was much more resilient than say Germany or Japan," Lara Rhame, chief U.S. economist for FS Investments, said in an interview with Bloomberg TV.
Despite the strong jobs figures, however, the Federal Reserve warned that there could be economic disruption due to the coronavirus in the coming months. "Such a risk to economic activity spurred the central bank to cut interest rates Tuesday in the first emergency move since the 2008 financial crisis," according to Bloomberg.
Notably, after the rate cut announcement, Fed Chairman Jerome Powell said: "The fundamentals of the economy remain strong," citing the low unemployment rate, solid pace of job gains and steady wage increases. "Still, Treasury yields have continued to plunge on signs the virus is spreading uncontained," as noted by Bloomberg.
In terms of other important figures in the jobs report, hourly earnings rose 0.3% from the prior month. "The report reflected a second-straight month of robust government hiring, which rose by 45,000 after a 51,000 gain in January, owing to employment at state and local governments," according to Bloomberg.
Construction employment rose by 42,000 which comes on the heels of a 49,000 rise in January. However, retailers and wholesalers employment declined. "Weekly hours worked rose to 34.4 hours from 34.3 in January. Economists look to hours worked for labor-market warning signs as companies often cut hours before laying off workers," according to Bloomberg.