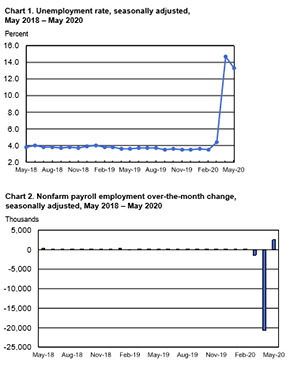 The financial market rally in recent weeks proved to be prescient as the U.S. jobless rate fell to 13.3%, and payrolls rose by 2.5 million, suggesting jobs are rapidly returning the coronavirus-hobbled economy.
"Our Network managers, in almost 400 executive recruitment offices, anticipate upticks in sequential professional, technical, executive and managerial hiring demand in the second half 2020 that might indicate continued steps in a positive return towards recovery," said Bert Miller, president and CEO of MRINetwork.
The mandated shutdown of a large segment of the U.S. economy, to reduce the spread of the coronavirus, had been expected to result in significantly higher unemployment levels. Economist forecasts had called for a decline of 7.5 million in May payrolls and a jump in the unemployment rate to 19%. Instead the Bureau of Labor Statistics (BLS) shocked many experts. Over the next days and weeks analysts will be exploring impacts of initiatives like the Paycheck Protection Program (PPP) to help explain the unexpected improvement which wasn't limited to the U.S. figures. North of the border, Canadian employment rose 290,000 in May, compared with forecasts of a 500,000 slump, its statistics office reported.
The BLS reported total non-farm employment rose by 2.5 million in May, and the unemployment rate declined by 1.4% to 13.3%. The total number of unemployed persons fell by 2.1 million to 21.0 million workers. When viewed versus data in the pre-coronavirus period, the number of unemployed persons is up by 9.8 percentage points and 15.2 million, respectively since February.
"Barring a second surge of Covid-19, the overall U.S. economy may have turned a corner, as evidenced by the surprise job gains today, even though it still remains to be seen exactly what the new normal will look like," said Tony Bedikian, head of global markets at Citizens Bank, reported Fox Business.
"May was this transition month. The layoffs were very high, but in the latter part of the month, rehiring started. This employment report is probably the peak of the disaster in the labor market," said Ethan Harris, head of global economics at Bank of America, reported CNBC.
According to the BLS, large employment increases occurred in May in leisure and hospitality, construction, education and health services, and retail trade. Government employment continued to decline sharply.
Employment in leisure and hospitality increased by 1.2 million, following losses of 7.5 million in April and 743,000 in March. Over the month, employment in food services and drinking places rose by 1.4 million, accounting for about half of the gain in total nonfarm employment. Construction employment increased by 464,000 in May, gaining back almost half of April's decline (-995,000).
Employment increased by 424,000 in education and health services in May, after a dramatic decrease of 2.6 million in April. Healthcare employment increased by 312,000 over the month, with gains in offices of dentists (+245,000), offices of other health practitioners (+73,000), and offices of physicians (+51,000). Elsewhere in healthcare, job losses continued in nursing and residential care facilities (-37,000) and hospitals (-27,000).
In May, employment in retail trade rose by 368,000, after a loss of 2.3 million in April. Over-the-month job gains occurred in clothing and clothing accessories stores (+95,000), automobile dealers (+85,000), and general merchandise stores (+84,000). By contrast, job losses continued in electronics and appliance stores (-95,000) and in auto parts, accessories, and tire stores (-36,000).
Professional and business services added 127,000 jobs in May, after shedding 2.2 million jobs in April. Over the month, employment rose in services to buildings and dwellings (+68,000) and temporary help services (+39,000), while employment declined in management of companies and enterprises (-22,000).
Financial activities added 33,000 jobs over the month, following a loss of 264,000 jobs in April. In May, employment gains occurred in real estate and rental and leasing (+24,000) and in credit intermediation and related activities (+7,000).
In May, employment continued to decline in government (-585,000), following a drop of 963,000 in April. Employment in local government was down by 487,000 in May. Local government education accounted for almost two-thirds of the decrease (-310,000), reflecting school closures.