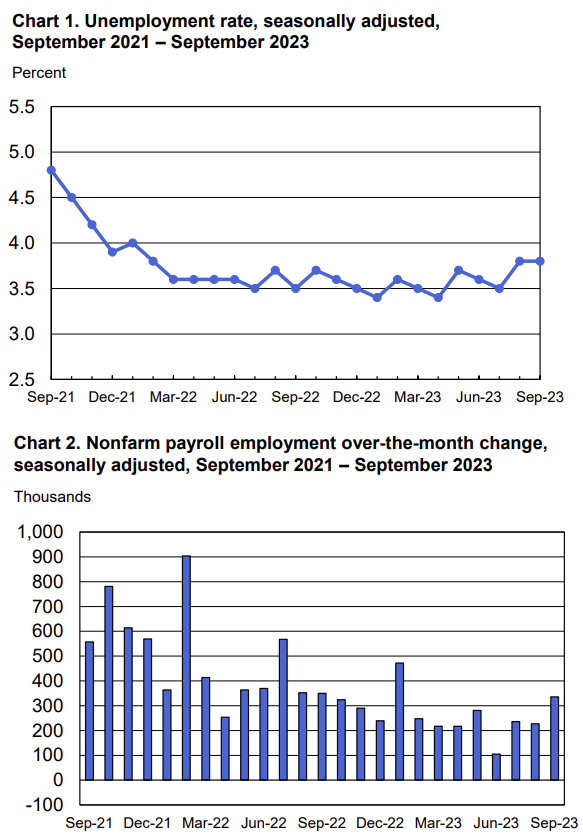 In a report that some analysts had felt might be the last to show solid hiring before a slowdown, the U.S. Bureau of Labor Statistics (BLS) September survey reported a surprisingly robust job gain of 336,000.
Today's gain was an improvement over the average monthly gain of 267,000 jobs over the past 12 months. Employment growth was revised upward by 79,000 in June and by 40,000 in August which is included in the past 12-month average.
The unemployment rate remained unchanged at 3.8 percent.
"For nearly two years, and again this month, the U.S. economy has seen an unemployment rate under four percent. In an insightful column, WSJ reporters Lauren Weber and Alana Pipe note that as experts have warned for years, the combination of baby boomer retirements, low birthrates, shifting immigration policies and changing worker preferences have driven and may continue to drive labor shortages and low unemployment.
Recruitment professionals in our Network of over 200 executive recruitment offices have consistently preached this talent shortage message to clients in virtually every industry in the global economy," noted Nancy Halverson, senior vice president, field operations MRINetwork. "While we welcome the opportunity to help clients source and hire new executive, technical, professional and managerial talent we also urge our clients to strengthen management and organizational skills needed to drive top performer retention. Sure, providing a competitive pay and benefits package is important but today's best and brightest employees want more. They demand to work in a compelling corporate cultural environment, in an organization that nurtures employee engagement with management teams providing frequent productive feedback. They expect leaders with well-honed listening and communication skills who can articulate clear career development paths."
Anticipating an uptick in jobs versus the prior month in today's BLS numbers, UBS chief economist Jonathan Pingle noted on CNBC, "You got a slew of strong data here, you can very easily put a November rate hike back on the table for the Federal Open Market Committee."
Fox Business reporter Megan Henry summarized the potential impact of today's surprising data, "U.S. job growth unexpectedly accelerated in September, defying fears of a slowdown in hiring even as the labor market confronts the twin threats of sticky inflation and high interest rates."
​Leisure and hospitality added 96,000 jobs in September, above the average monthly gain of 61,000 over the prior 12 months. Employment in food services and drinking places rose by 61,000 over the month and has returned to its pre-pandemic February 2020 level.
Healthcare added 41,000 jobs in September, compared with the average monthly gain of 53,000 over the prior 12 months. Over the month, employment continued to trend up in ambulatory healthcare services (+24,000), hospitals (+8,000), and nursing and residential care facilities (+8,000).
Employment in professional, scientific, and technical services increased by 29,000 in September, in line with the average monthly gain of 27,000 over the prior 12 months.
In September, employment in transportation and warehousing changed little (+9,000). Truck transportation added 9,000 jobs, following a decline of 25,000 in August that largely reflected a business closure. Air transportation added 5,000 jobs in September. Employment in transportation and warehousing has shown little net change over the year.
Employment in information changed little in September (-5,000). Within the industry, employment in motion picture and sound recording industries continued to trend down
(-7,000) and has declined by 45,000 since May, reflecting the impact of labor disputes.
Employment showed little change over the month in other major industries, including mining, quarrying, and oil and gas extraction; construction; manufacturing; wholesale trade; retail trade; financial activities; and other services.
"Baby boomers will continue to exit the labor market. In fact, the trailing tail of boomers will reach retirement age in 2028. Lower birthrates and smaller college degree graduation rates will constrain supply of new talent entering the workplace. And don't expect much help from Washington in creating a coherent immigration policy," noted Halverson. "It's up to smart managers and executive teams to not only find and hire the best and brightest talent but to keep that talent on board and driving profitable growth."
To view the entire Employment Situation report from the U.S. Bureau of Labor Statistics, click here.