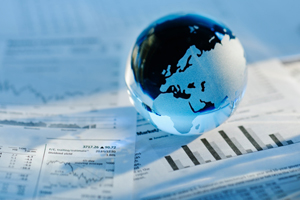 "Governments around the globe have already allocated more than $13 trillion to stabilize their economies and jump start growth. Although these speedily implemented measures have succeeded in many ways, new worries continue to emerge. But we believe that if governments and the private sector work together, we can return to prosperous and sustainable times worldwide."
Bert Miller, President and CEO, MRINetwork
Europe, Middle East and Africa
As the coronavirus lockdown eases, the global economy is starting to come back to life. U.S. job numbers were better-than-expected, and a surge in private sector activity in China reinforced the view in equity markets that the worst is past, according to a recent report from Deloitte. Yet, the economic numbers around the world paint a much more cautious picture, the report notes. "In the UK activity is stirring not bouncing," says Ian Stewart, Deloitte's Chief Economist in the UK.
The UK started to emerge from lockdown on 13 May, with people who are unable to work at home "actively encouraged" to return to work. Since 1 June schools have started to reopen as have car showrooms and open-air markets, and all non-essential shops will be allowed to get back to business.
"Real-time transaction data from credit card providers and banks shows that UK consumer spending has risen since April," says Stewart. "Despite the pickup research group Fable Data notes that household spending in the final week of May was 18.5% lower than in the equivalent week of 2019. With the reopening of the housing market on 13 May property group Zoopla reported a sharp rise in the number of active enquiries. There are also tentative signs of an increase in shipping coming through UK ports."
Asia-Pacific
The region is easing lockdown restrictions with phased re-openings being implemented in many areas, according to the World Economic Forum. South Korea, one of the earliest-hit countries, opened schools last month with senior pupils being the first to return to prepare for university entrance exams, and younger pupils following shortly after. Museums, libraries and nightclubs are also progressively reopening. Hong Kong announced a partial easing of lockdown conditions for cinemas, bars, gyms, and mahjong parlours, among other things, and secondary school classes are set to resume. Vietnam, with one of the most stringent quarantining policies, was the first South-East Asian country to lift its lockdown, but many businesses remain closed and the inevitable economic damage brought about by a continuing curfew means a fragile, tourism-dependent economy will be put to the test. At the southern end of the Asia-Pacific region, the Australian government met with state leaders to discuss creating health protocols for a "COVID-safe environment" that might allow widespread reopening of businesses by early July. New Zealand has already begun to loosen its lockdown restrictions, moving from level four to three, allowing schools and certain businesses to reopen.
Americas
The COVID-19 pandemic has focused more attention on an energy transition that would help the world reduce CO2 emissions. According to a recent report from the Inter Press Service News Agency, clean hydrogen markets have the potential to be "a key part of the economic recovery from the pandemic, accelerate the decarbonization of Latin America's electricity and transportation sectors, attract investment and create jobs. Indeed, the possibilities for oil and gas companies to produce and deliver hydrogen should facilitate and accelerate its adoption in Latin America particularly when combined with the region's considerable renewable energy upside."
Over the last ten years, most countries in Latin America enacted clean energy targets and laws that include fiscal incentives and goals to achieve a determined percentage of their electricity mix from clean energy sources by specific timeframes. Clean energy policies with clear objectives and successful implementation have engendered competition and electricity prices among the lowest in the world, says the report, all the while injecting billions of dollars of direct investment into their economies. "Latin America's power sector is well-positioned to be the main driver for a clean hydrogen boom as the pace of solar and wind energy projects continues to accelerate. Navigating the path forward from the COVID-19 pandemic coupled with the persistent threat of climate change makes clean hydrogen a possible solution for the region's energy and economic recovery."