By John Zappe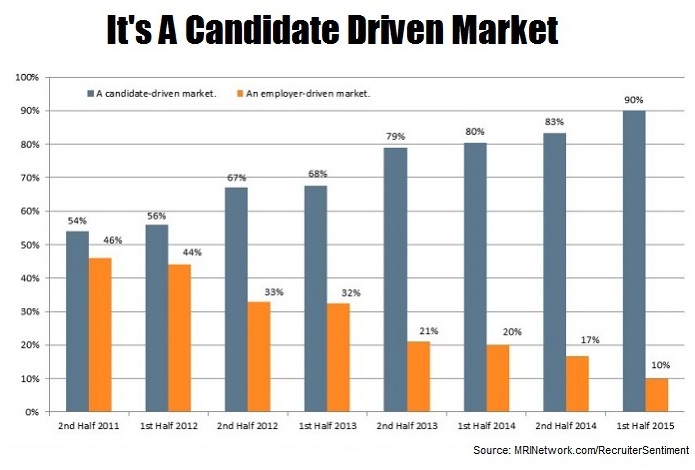 Perm and temp placements will continue strong through the end of the year and may even increase, as more companies are reporting plans to add headcount.
Forecasts from CareerBuilder and Manpower show more employers plan to add staff — permanent, full-time, temp and contract — by the end of the year than was the case last year or even at the beginning of 2015. The Palmer Forecast calls for a nearly 5% increase in temp hiring through the end of September.
The bad news for agency recruiters is that placing candidates is only going to get harder.
MRINetwork's latest Recruiter Sentiment Study leaves no doubt who recruiters think is driving the market. It's the candidates.
In just three years, the percentage of MRI's recruiters saying it's a candidate-driven market shot up from 56% in 2012 to 90% today.
Employers though, are still not getting the message, the surveyed recruiters say. While 63% of offers are now being made within four weeks of the first interview (up from 59% at the end of 2014), almost half of MRI's recruiters say the biggest obstacle to making the placement are offers that are too low.
When a candidate turns down an offer, 25% of the time it's because of money and benefits. And even with speedier offers, 37% of turndowns are because the candidate has accepted another job.
The hiring forecasts for the current quarter and through the end of the year make a strong case the employment market will become more competitive.
View full article here in The Fordyce Letter>>