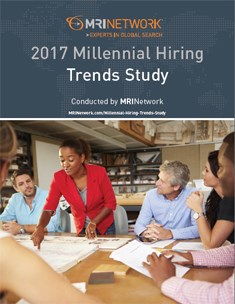 (Philadelphia, PA) – The 2020 millennial-dominated workforce is just a few years away, yet most companies are taking a neutral, non-competitive approach to attracting and retaining Millennials. New data from the 2017 MRINetwork Millennial Hiring Trends Study, indicates that within the executive, managerial and professional sector, misconceptions about what is important to Millennials, and a lack of urgency are preventing many employers from gaining traction with this younger generation. Despite these shortcomings, the study reveals recruiters expect companies to take a more strategic approach to attracting and holding on to top millennial talent in 2017.
According to the Study, Millennials selected compensation and benefits most often (28 percent) as their top priority when considering a new job. Mentorship and opportunities for advancement ranked just two percentage points below compensation at 26 percent, suggesting that compensation is often the determining factor when deciding to take on a new role. On behalf of clients, recruiters ranked work-life balance as the top priority, indicating a disconnect between what employers think and what Millennials value most.
Market reputation was identified by 40 percent of Millennials as having the most impact on their impressions of prospective employers. Comparatively, 54 percent of recruiters said online presence is the top channel being leveraged by companies to attract Millennials. Additionally, when asked if most of their clients have an employer brand that is attractive to Millennials, almost half of recruiters (48 percent) said no. Seventy-two percent of Millennials said it depends on the industry sector.
In terms of what has the most impact on the decision to stay with an employer, more than half of Millennials (53 percent) said it is career pathing – mapping of incremental progression to new roles in the company. Flexible work options, or the ability to work remotely, was the top pick of recruiters (38 percent) followed by career pathing at 32 percent.
It's unclear whether the market is currently candidate-driven among top millennial talent. Most recruiters (71 percent) feel it is, while more than half of millennials (53 percent) feel employers have the upper hand in the hiring process. Although many factors are at play, Millennials may feel inferior to their prospective employers because of lengthy hiring processes, or little to no feedback about their standing in the interview process. Companies may feel Millennials have more control because they often bring tech-savvy, new work approaches and specialty skill sets to the table.
Regardless of who is driving the labor market among Millennials, more than half of recruiters (61 percent) feel companies are planning on taking a more deliberate, strategic approach in 2017. Thirty-three percent feel employers will develop specific strategies to attract Millennials, and 28 percent say clients will focus on career pathing and mentoring to prepare millennial employees for management.These potential changes are encouraging as recruiters and hiring authorities begin to understand the combined value, perspectives and impacts of successfully integrating various generational groups into organizational teams, and engaging them through improved work synergies, mentoring and succession planning.
About the 2017 MRINetwork Millennial Hiring Trends Study: The MRINetwork 2017 Millennial Hiring Study is based on a web-based survey conducted between November 11 – 30, 2016 with a total of 228 MRINetwork recruiters and 181 MRINetwork and CDI Corporation millennial employees responding. All survey data has been rounded to the nearest tenth. The survey has a 6.1 percent margin of error with a 90 percent confidence.
The survey was conducted by MRINetwork and compiled by Nysha King (215.282.8821 | nysha.king@MRINetwork.com of MRINetwork. This was the first edition of the study. View the study and a short video on what's important to Millennials at MRINetwork.com/Millennial-Hiring-Trends-Study.
About MRINetwork®: Management Recruiters International, Inc., branded as MRINetwork®, is one of the largest executive search and recruitment organizations in the world. A subsidiary of CDI Corp. (NYSE:CDI), a global provider of engineering & technology solutions and professional staffing services, MRINetwork has approximately 600 offices spanning four continents. Visit MRINetwork at https://mrinetwork.com. For franchising opportunities, visit https://mrinetwork.com/franchising/the-mrinetwork-opportunity/.