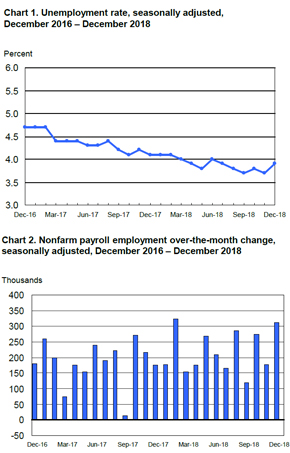 U.S. job growth experienced an unprecedented uptick in December, with employers adding approximately 312,000 nonfarm positions throughout the month, according to the Bureau of Labor Statistics' most recent Employment Situation Summary. Market analysts anticipated a spike of sorts following the underwhelming employment figures recorded in November, during which time American businesses added just 176,000 roles, per revised numbers from the BLS. However, most anticipated an increase of around 180,000 jobs, The New York Times reported.
The BLS attributed the startling job growth observed in December to strong gains in the food and beverage, construction, healthcare, manufacturing and retail industries.
Healthcare boasted the biggest hiring increase, with organizations in the sector adding 50,000 jobs. This capped off a banner recruitment year in the healthcare industry, which managed to add 346,000 positions in 2018, a significant increase over the 284,000 roles it added in 2017. Businesses in the food and beverage arena added 41,000 roles in December, pushing its annual total to 235,000. The construction sector managed to tack on 38,000 jobs in the month, vaulting its annual figure to 280,000, a slight improvement on the 250,000 new roles that materialized in 2017. The manufacturing space added 32,000 positions in December, as firms specializing in durable goods, metal fabrication and electronics niches flourished. This pushed yearly hiring figures to 284,000, a far cry from the 207,000 new jobs added in 2017. Retailers added 24,000 jobs during the month of December, with merchandisers and car dealers doing the bulk of the recruitment. The retail industry established 92,000 new roles in 2018.
Employment in the expansive professional and business services sector also increased over the month. Here, employers added 41,000 jobs, bringing the annual count to 583,000, an improvement over the 458,000 new positions created in 2017.
Job growth across a smattering of other industries, including the financial services, logistics, mining and warehousing spaces, was flat for December.
While the hiring situation improved over the final month of 2018, unemployment rose, moving from 3.7 percent to 3.9 percent. The BLS linked this jump to increased rates of joblessness among adult men and African Americans. The population of job leavers ballooned in December, as an estimated 142,000 Americans handed in their two weeks over the month, adding further fuel to the fire. Unemployment rates for adult women, teenagers, individuals of Asian descent and Caucasians remained stable. In all, the U.S. unemployment rate fell from 4.1 percent to 3.9 percent in 2018, continuing more than a decade of workforce growth.
The labor participation rate and employment population ratio saw little change in December, hovering near 63 percent and 60 percent, respectively. Both metrics increased by 0.4 percent in 2018.
Despite these encouraging numbers, many investors remain skeptical of American economy due to recent marketplace turbulence, The Times reported. Additionally, the Federal Reserve appears to be taking its time contemplating a next interest rate hike after four were seen in 2018. According to USA Today, Federal Reserve Chairman Jerome Powell said the central bank "will be patient" as it weighs future interest rate hikes in light of low inflation, adding that policymakers will also take into account recent stock market volatility.
However, economists and labor market analysts are not so concerned heading into the new year, as the U.S. employment situation continues to improve.
Editorial Contact
Nysha King
Media Relations Lead
Office: 215.282.8821
Email: nysha.king@mrinetwork.com