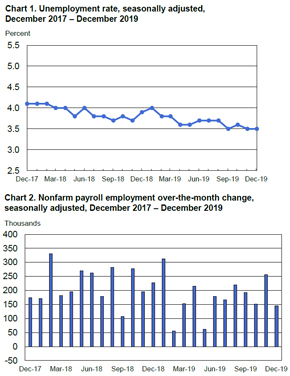 In the Bureau of Labor Statistics' latest report, the manufacturing industry took a hit in the number of jobs available for U.S. workers. In fact, the industry lost 12,000 jobs in December and increased by only 46,000 over the course of the year, according to CNBC. That's compared to a net increase of 264,000 in 2018.
Overall, there are plenty of jobs in the industry still available, however. In fact, "There were still 477,000 open positions as of October, down less than 5% from the year-ago level, according to the Labor Department's most recent data," as explained by CNBC. The publication goes on to suggest that companies are having a difficult time filling positions due to a combination of a skills gap as well as the ongoing U.S.-China trade war.
"Until we have a better-trained, more-skilled workforce, which is not really out there, you're going to have a lot of these positions open. It's a challenge," said Steve Rosen, CEO of Resilience Capital Partners, in an interview with CNBC. "There are job openings, and they are very tough to fill."
Notably, this comes as the unemployment rate overall held at 3.5 percent, meaning that just 5.8 million people in the U.S. were without a job in December. "A year earlier, the jobless rate was 3.9 percent, and the number of unemployed persons was 6.3 million," according to BLS data.
In terms of major worker groups and their employment rates, the BLS stated the following: "The unemployment rates for adult men (3.1 percent), adult women (3.2 percent), teenagers (12.6 percent), Whites (3.2 percent), Blacks (5.9 percent), Asians (2.5 percent), and Hispanics (4.2 percent) showed little or no change in December."
Overall, total nonfarm payroll employment increased by 145,000 in December with the most notable gains coming in retail and health care, according to the BLS data. For the year, "payroll employment rose by 2.1 million, down from a gain of 2.7 million in 2018."
More specifically, retail trade added 41,000 jobs and "employment increased in clothing and accessories stores (+33,000) and in building material and garden supply stores (+7,000)."
For the health care industry, the field saw a 28,000 boost in December. "Ambulatory health care services and hospitals added jobs over the month (+23,000 and +9,000, respectively)." For the year, the industry added 399,000 jobs, which was higher than the increase of 350,000 in 2018."
Other industries such as transportation, information, finance and government saw little changes in employment for the month, according to BLS data.
Interest rates are likely to remain the same as a result of this most recent jobs data, according to Bloomberg. "Federal Reserve policy makers are likely to keep holding interest rates steady after cutting three times in 2019 to insure against risks from trade-policy uncertainty and sluggish global growth, though further weakness could raise concerns about the durability of the record-long U.S. expansion," as noted by the publication.