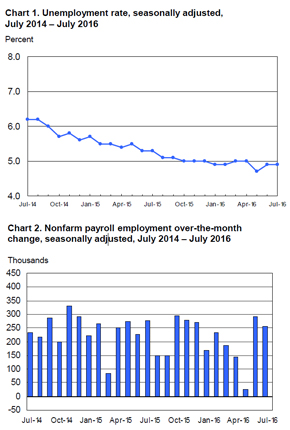 Beating economist predictions, the mid-summer jobs report revealed steady growth for the month of July. Amidst solid hiring, wages also rose.
Solid job gains beat expectations
According to the Bureau of Labor Statistics, nonfarm payroll employment advanced by 255,000 last month with hiring in healthcare, financial activities and professional and business services. Both the number of unemployed persons and the unemployment rate remained unchanged, despite predictions otherwise. Forecasted to fall to 4.8 percent, the unemployment rate held at 4.9 percent for July.
Ahead of the job report release this morning, economists surveyed by Reuters expected a rise in nonfarm payrolls of just 180,000, reported Fortune magazine. Although the July numbers were down slightly from the June employment jump of 287,000, the rise was still well above the monthly average of employment gains for the first half of the year, which stood at 171,500.
The sector with the most robust growth last month was professional and business services, posting an increase of 70,000 jobs. That brings added jobs to 550,000 within the past year. Employment growth was largest in professional and technical services which grew by 37,000 positions. Management and technical consulting services continued edging up, adding 6,000 jobs.
The healthcare sector added 43,000 jobs in July with the biggest growth in ambulatory healthcare services at 19,000 jobs, followed by hospitals with 17,000 added positions.
Other major industries including construction, manufacturing, wholesale trade, retail trade and information remained relatively unchanged throughout the month.
Steady wage growth for July
Private nonfarm payroll earnings on average increased by 8 cents per hour in July, according to the BLS report. Marking a 2.6 percent rise in hourly earnings over the year, it brought the hourly median earnings to $25.69. Private-sector production and nonsupervisory employees saw hourly earnings increase by 7 cents to $21.59.
"As the labor market continues to tighten, I think we will see wage growth further accelerate," Gus Faucher, deputy chief economist at PNC Financial Services Group in Pittsburgh, told Fortune. "Consumers are driving economic growth right now and one of the reasons is that wage growth has gotten a bit stronger."
Though the average workweek for manufacturing employees held steady at 40.7 hours last month, overtime increased 0.1 hour to 3.3 hours. Meanwhile, private nonfarm payroll employees saw a decrease of 0.1 hour, bringing the average workweek down to 34.5 hours.
The economic outlook
The second robust month of hiring comes amidst a mix of an unsettled global economy, increased consumer spending, a slowdown in economic output and falling investments in the business sector, according to The Wall Street Journal. Regardless of swaying indications from the economy however, the strong job report for July should bolster expectations of a strengthening labor market, noted the source.
"It shows the economy from a labor perspective is heading in the direction that the Fed wants, Doug Duncan, chief economist at Fannie Mae in Washington told Reuters. "It gives the Fed some support for those looking for an increase in rates by the end of the year."
Moreover, the steady rise of entrants to the job market is expected to maintain a high labor force participation rate, or the percentage of working-age Americans who are employed, which currently stands at 62.8 percent, noted Fortune.