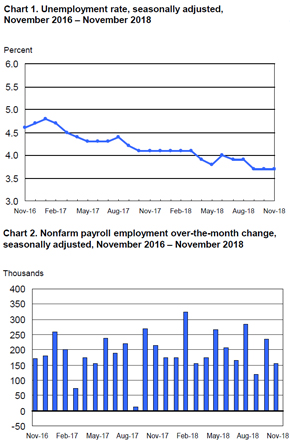 The spirited pace of job growth that the U.S. reached in October turned out to be unsustainable for November: In its latest edition of the Employment Situation Summary, the Bureau of Labor Statistics confirmed a total of 155,000 nonfarm payroll jobs created for the month, a decline of almost 100,000 from October's numbers. NPR pointed out that November's figure was considerably below the 190,000 new jobs economists had projected during the month. Alongside some other signs of uncertainty – major stock-market fluctuations during the week of Dec. 3 and projections from regional Federal Reserve offices that were all over the map in terms of outlook – the newest BLS statistics could spark some concern about a broader slowdown in the American economy.
At the same time, other November metrics were more indicative of a chance for stability: The unemployment rate held static at 3.7 percent for the third consecutive month, year-over-year growth in average hourly earnings remained at October's respectable level of 3.1 percent and the labor force participation rate stood at 62.9 percent.
Healthcare and professional services tied for first place in terms of November's biggest employment producers, each creating 32,000 new jobs. Given the way 2018 has turned out for both of these sectors, such growth can be considered par for the course. Manufacturing came in close behind those two fields, with a total of 27,000 new roles added to its practitioners' payrolls, and transportation and warehousing created a more than respectable 25,000 jobs for the month.
The retail sector, meanwhile, was somewhat of a mixed bag: Although general merchandise stores and the BLS's catch-all segment of "miscellaneous store retailers" saw big gains of 39,000 and 10,000 positions, respectively, business owners in a variety of more specific retail fields experienced five-figure job losses. Clothing and accessories shops in the U.S. had to drop 14,000 employees in November 2018, while electronics and appliance stores lost 11,000 jobs, as did sporting goods, hobby and book stores.
With the year's end just around the corner, economists, company leaders and government officials are naturally starting to look at 2018 as a whole. Considering how so much of the year turned out, measurements like average monthly job growth will probably beat some of the strongest levels seen since 2016. Bankrate senior economic analyst Mark Hamrick commented on this in an interview with The Washington Post.
"Most measures of the U.S. economy have been holding up quite nicely," Hamrick said, according to the news provider. "The question is: How much slowing is there on the horizon?"
There is no clear answer in sight for Hamrick's question, due to several indicators of waning economic stability on both macro and micro scales: The Fed, which will convene Dec. 18-19 to formally decide on issuing an increase in benchmark interest rates, confirmed in its Dec. 5 Beige Book report that several districts saw tightening labor markets and shortages of skilled workers for specialized trades. (This will likely have little effect on whether the Fed hikes rates, though, which it is widely expected to do.)
While trade tensions have been a concern of economies around the world for at least the past half-year, November and early December 2018 showed more concrete signs of tariff-related impact on American businesses than previous months. According to NPR, Dec. 4 marked a 799-point drop in the Dow Jones Industrial Average, while Dec. 6 showed a 750-point plunge for most of the day's trading before bouncing back to end on just a 79-point deficit. Drops that close together – both attributed to disputes between China and the U.S. – always rattle stock-market confidence and may not be cause for any sustained alarm, but other indicators could be more substantive, as noted by Lindsey Piegza, chief economist at Stifel, a global financial services firm.
"Trade tensions are starting to eat at business confidence," Piegza said to the Post when asked about the trade conflicts. "We've seen a pullback in terms of investment. Businesses are starting to question whether they do want to take on that additional hire."
Business owners in the U.S. still have plenty of reason to feel generally optimistic about the economy's direction, as 2018's progression thus far shows. That said, it will likely still be prudent to make contingency plans for the possibility of more concrete job-growth sluggishness in 2019, just to be on the safe side.
Editorial Contact
Nysha King
Media Relations Lead
Office: 215.282.8821
Email: nysha.king@mrinetwork.com