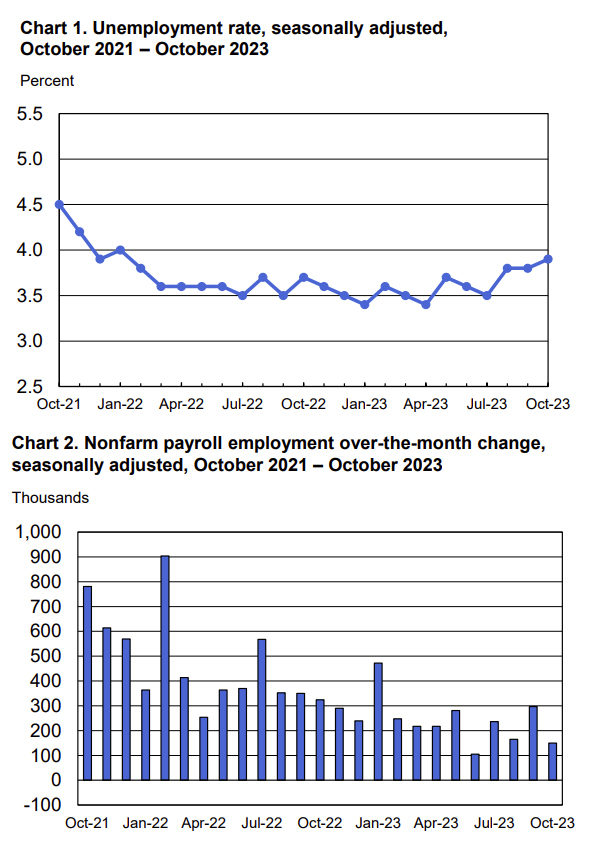 Easing hiring and wage growth, as reflected in today's Bureau of Labor Statistics (BLS) survey, might signal that the economy is cooling in spite of recent robust GDP growth.
Total nonfarm payroll employment increased by 150,000 in October in contrast to a surprisingly strong gain of 336,000 jobs in September. The unemployment rate up-ticked slightly to 3.9 percent.
"The unemployment rate has been below the Federal Reserve's estimate of a 'natural' unemployment rate of 4 percent for over 20 months. Within the executive, professional, technical and managerial space that our Network of over 200 executive recruitment offices operate in, the rate has been much lower — hovering around 2 percent. As today's BLS numbers still indicate, we remain in a historically tight job market.
As I noted in last month's Employment Situation Report, much of our recent talent consulting efforts have been focused on helping clients improve their top-performer retention skills," noted Nancy Halverson, vice president of MRINetwork. "Critical skills I previously outlined focused on creating an organization that nurtures employee engagement in a compelling cultural environment, offering clear career paths by management teams who understand the value of frequent feedback.
Another key ingredient is leveraging the power of teamwork. Creating opportunities for collaboration encourages not only bonding between coworkers but drives both a positive corporate culture and overall organizational performance. Today's work-from-home environment presents particular challenges in building teamwork, but our best clients are finding paths to enhance connection."
Wall Street Journal reporter, David Harrison provided a possible labor market map from today's report, "The strong labor market is encouraging people to come off the sidelines and look for a job, enticed by the prospect of higher wages and benefits. The share of working-age people either working or looking for a job has climbed, and recently hit the highest level in more than two decades. Having more people in the workforce could make it easier for employers to find workers, which would keep wage growth and inflation in check. When wages rise rapidly, in theory, it forces businesses to increase their prices to pay for higher labor costs."
Jeffrey Roach, chief economist at LPL Financial noted an underlying employment trend, "In recent months, firms are hiring relatively more part-timers, indicative of the uncertainty in near-term business conditions. Indeed, a potentially important trend has been the hiring of part-time workers in recent months. Since June, their rolls have swelled by 1.16 million, according to Labor Department data. Conversely, full-time positions have dropped by 692,000."
Healthcare added 58,000 jobs in October, in line with the average monthly gain of 53,000 over the prior 12 months.
In October, construction employment continued to trend up (+23,000), about in line with the average monthly gain of 18,000 over the prior 12 months. Employment continued to trend up over the month in specialty trade contractors (+14,000) and construction of buildings (+6,000).
Employment in leisure and hospitality was up slightly (+19,000). The industry had added an average of 52,000 jobs per month over the prior 12 months.
Also changing slightly from the prior month, employment in professional and business services grew (+15,000) and has shown little change since May.
In October, employment in transportation and warehousing was little changed (-12,000) and has shown minimal net change over the year. Over the month, warehousing and storage lost 11,000 jobs, while air transportation added 4,000 jobs.
Information employment changed little in October (-9,000). Employment in motion picture and sound recording continued to trend down (-5,000); the industry has lost 44,000 jobs since May, at least partially reflecting the impact of an ongoing labor dispute.
Employment in manufacturing decreased by 35,000 in October, reflecting a decline of 33,000 in motor vehicles and parts that was largely due to strike activity in the automotive sector.
Over the month, employment showed little change in other major industries, including mining, quarrying, and oil and gas extraction; wholesale trade; retail trade; financial activities; and other services.
"While managing for talent retention is an essential skill in today's employment marketplace, there is no such thing as total retention. Our consultants also urge clients to know when it's time to say goodbye to underperformers. A key skill overlooked by many firms is to guide underperformers to find work elsewhere and to manage the offboarding process to encourage an amicable and effective separation while capturing important insights in a well-structured exit interview," noted Halverson.
To view the entire Employment Situation report from the U.S. Bureau of Labor Statistics, click here.