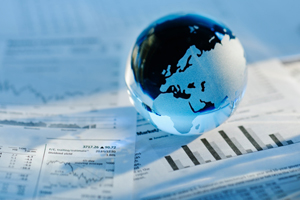 Europe, Middle East and Africa
In Germany, there was some welcomed economic news: the country isn't headed for a recession after all. That's according to a recent Reuters report, citing Bundesbank earlier this week. While the economy is expected to continue with slow growth, there are signs that the economy overall will recover in the coming months.
"Growth in Germany, Europe's biggest economy, will remain weak in the fourth quarter but there is no reason to fear a recession and there are signs that prospects for its vast industrial sector may be stabilizing, the Bundesbank said on Monday," according to the news report.
As the article notes, the country just barely escaped a recession in the last quarter with GDP growth of only 0.1%. Despite it being a small percentage, it does showcase that the country's economy is in the process of stabilizing.
In France, meanwhile, things are looking rosier in comparison to Germany and the country has actually outpaced economic growth when compared to other European countries, according to a recent news article.
In fact, France is showing job growth and has even boosted investments in trade after "signing contracts with China that covered a wide range of industry in the fields of aeronautics, energy, and agriculture, including approval for twenty French companies to export poultry, beef and pork to the Asian giant – worth more than 13 billion euros."
Asia-Pacific
In a bid to boost its economy, Japan's Prime Minister Shinzo Abe has called for his cabinet to put together a powerful and far-reaching stimulus package. According to Reuters, this plan will include investments in growth across the economy as well as aggressive investments in loan programs for the country's citizens.
"Japanese policymakers have been under pressure to fend off heightening overseas risks with a diminishing tool-kit, as the U.S.-China trade war and soft global demand have hurt the export-reliant economy," according to the news service.
The moves are expected to help offset issues related to the region's aging population. According to the country's finance minister Taro Aso, the economic package currently being put together "should help enhance productivity and achieve strong growth to overcome the pressure caused by a declining population."
In another Asia-Pacific country, there's good news: Vietnam is seeing a surge in tourism. One news publication in the region states that "the number of international tourists visiting the country grew from 4.25 million in 2008 to 15.5 million in 2018, while the number of domestic tourists rose from 20 million in 2009 to 80 million this year."
This, in turn, is causing the transportation and aviation industries to see huge growth. In fact, "the number of aircraft has grown from 60 aircraft to 192 aircraft. The flight network has been expanded about three times with 60 domestic and 130 international routes currently operating," according to the news report.
Americas
The U.S. economy is performing better compared to China, which may prompt the signing of a trade deal between the two nations, according to CNBC. In fact, the article states that the trade war is likely adversely impacting China's economy more, causing it to struggle. Therefore, the nation is facing added pressure to act more quickly and ink a deal with the United States.
"I suspect the increasingly pronounced slowdown in China's economy, coupled with recent employment data pointing to continued strength in the U.S. economy, are putting heavy pressure on China to settle sooner rather than later," Richard Koo, chief economist of the Nomura Research Institute, said in a note to CNBC.
This information comes as the U.S. and China appeared to make progress in October by working up a "phase one" trade deal. "However, trade negotiations seemed to have stalled after signs that the two sides were not on the same page on some core terms. China pushed for a rollback of the existing duties in place as part of the deal, which Trump said he had not approved," according to CNBC.
Notably, CNBC states that it's unlikely that the U.S. will change its stance toward China in signing a trade deal should President Donald Trump not win a re-election. "Mr. Trump's hardline approach towards China is perhaps the only initiative of his that has the support of both parties, and the U.S. appears highly unlikely to alter its policy unless China makes a significant change of course," said Koo in a statement to the publication.
Elsewhere in the Americas, Mexico is seeing productivity issues and is underperforming economically even though workers are putting in a lot of hours, according to Bloomberg. "It tops the 36 OECD nations for hours worked – but it's the least productive," the news publication reports.
More specifically, the country's economy has grown at only 2.4% a year over the past 25 years, according to Bloomberg. Meanwhile, this year is expected to be even worse at just 1%. To help offset some of these issues, President Andres Manuel Lopez Obrador is attempting to put into place infrastructure projects to boost productivity.
Manuel Molano, the director of the Mexican Competitiveness Institute, tells Bloomberg the way to fix the country's economy: "To lift productivity, Mexico needs three things," Molano said. "Institutions, institutions, institutions."