How does Gen Z compare to previous generations? Shaped by different historical events and social and political factors, each generation requires different engagement strategies built on generational nuances. A one-side-fits-all approach simply doesn't work.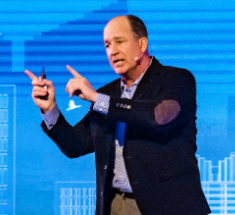 Mark Beal, author, marketer, professor, and Gen Z expert took the stage at MRINetwork's United conference, to demystify Gen Z and offer effective recruiting and hiring strategies. Leverage his insights and expertise to better engage young hires and rising stars.


Today's Multigenerational Workforce
| | | | | | |
| --- | --- | --- | --- | --- | --- |
| Generation | Born | Attributes | Motivators | Communication Style | Employers Should |
| Gen Z | 1997-2012 | Entrepreneurial, Progressive, Global | Diversity, personalization, individuality | IMs, text, social media | Create a culture of diversity, inclusion, and belonging, while prioritizing mental health and empowering ZEOs |
| Millennials | 1981-1996 | Achievement-Oriented, Civic- and Open-Minded | Responsibility, quality of management, unique work experiences | IMs, texts, email | Get to know them personally, manage by results, be flexible |
| Generation X | 1965-1980 | Flexible, Skeptical, Independent | Diversity, work-life balance, their interests vs. companies' | Whatever is most efficient, including phone calls and meetings | Offer immediate feedback, flexible work, and growth opportunities |
| Boomers | 1946-1964 | Optimistic, Competitive, Team-Oriented | Company loyalty, teamwork, duty | Whatever is most efficient, including phone calls and meetings | Provide specific goals and deadlines, as well as coaching-style feedback |
| The Silent Generation | 1928-1945 | Dependable, Tactful, Loyal | Respect, recognition, providing long-term value | Personal touch, handwritten notes versus email | Offer satisfying work opportunities, emphasize stability |
Sources: Pew Research Group, Perdue Global, Mark Beal

Engaging the Next Greatest Generation
How do you attract Gen Z, and create a workplace that makes them want to stay? Here are some tips Beal offers to cultivate an engaging recruiting and hiring experience.
Realize They're a Generation All Their Own
Gen Z are not their parents or their grandparents. Their world view is wholly different. When recruiting and retaining Gen Z, it's important to recognize that Gen Z doesn't think like generations before them. It may take a paradigm shift at the upper levels of companies to develop effective strategies. Look to Gen Zers and Beal's books for insights and answers that can help guide your efforts.
Invite Gen Z to Be a Transformative Part of Your Company
Gen Z doesn't want to be a cog in the machine or just another employee. They want to be part of something important, innovative, and transformative. They want to collaborate and contribute, to make an impact that achieves positive change. Look within your organization for ways to unleash Gen Zer's innovative ideas, tech savvy, and entrepreneurial spirit.
Create a Culture of Diversity, Inclusion, & Belonging
Gen Zers cite a corporate culture of diversity and inclusion as their number one priority. As the most diverse and inclusive generation, they seek companies that prioritize DEI, and will leave if they don't find it.
Prioritize Mental Health
Mental health is a top priority and goal-setting area for Gen Z, for good reason. This generation has been impacted substantially by the pandemic and technology, with the pandemic upending their graduations, internships, jobs, and social lives. Gen Z has grown up with greater awareness and support for mental health, and addresses challenges openly.
Provide Flexible Work Environments
Almost 30 percent of Gen Zers prefer hybrid work environments, according to Beal's online national studies. Just 13 percent want to be working in person full time.
Engage Gen Z, Don't Market to Them
Engage Gen Z with purpose-led messaging, and look to Gen Z peers — "nano influencers" — to develop authentic and effective engagement strategies. Gen Z's media mix is unlike any other. It's essential to meet them where they are: Instagram, TikTok, YouTube, Snapchat, LinkedIn, Spotify, Discord, and Clubhouse are top channels.
Empower ZEOs
Gen Z has amazing ideas, and only needs an invitation to share. As you consider ways to better engage Gen Z, look to Gen Z directly for help. Whether currently employed within your organization, or accessible through internships, Gen Z's have the answers and expertise that you need to succeed.

Additional Resources
Looking for more insights and guidance? Check out Beal's books and media coverage on markbealspeaks.com.